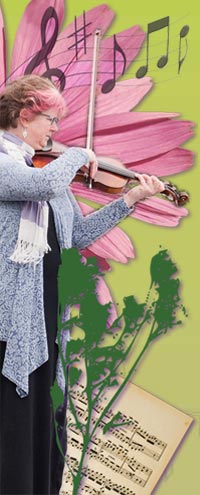 Danielle McCutcheon is a member of the Tacoma Symphony Orchestra and freelances as a soloist and chamber musician. She has performed with Village Theater, Spokane Symphony, Bellevue Philharmonic, Federal Way Symphony, Valse Café Orchestra, Seattle Choral Company, Orchestra Seattle, Philharmonia Northwest, as well as in back-up groups for Pavarotti, Josh Groban, k.d. lang, as Concertmaster for Northwest Symphony, as soloist with the Vashon-Maury and Octava Chamber Orchestras, and special guest with the Smilin' Scandinavians, to name a few. Her recent album, Clave de Sol, is available at Vashon Island Music.
Danielle is an herbal practitioner who offers in-depth consultations, taking into account all aspects of a person's life. She has a special interest in helping people cope with stress, anxiety, aches and pains, sleep disorders, and symptoms associated with menopause and andropause. Danielle is currently researching herbal protocols which may assist conventional treatments of Lyme disease, Fibromyalgia, and Cancer. She can provide information regarding herb-drug interactions based on recent research. Individualized herbal formulations and lifestyle suggestions are made according to each client's personal needs.
Danielle studied with Isla Burgess, Director of the International College of Herbal Medicine, as well as other highly esteemed medical herbalists, botanists, and researchers from around the world.